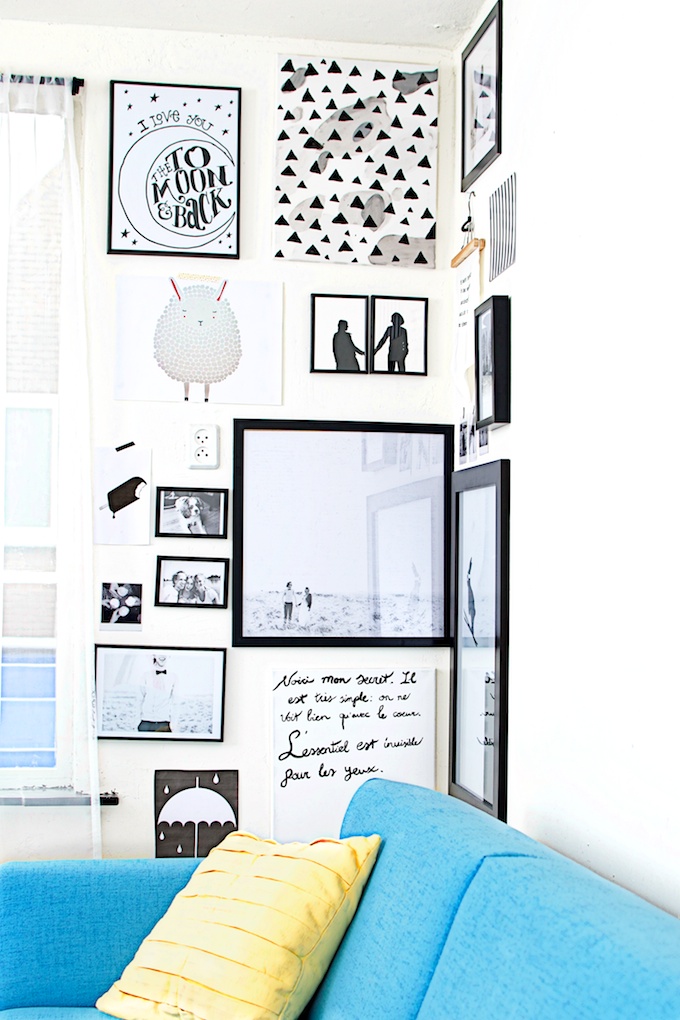 Ik vind galerijmuren zo leuk en origineel. Het is heel anders dan de voorgemaakte fotolijstjes-collages, waarbij de positie en grootte van elke foto al bepaald is. Je hebt nu gewoon een hele muur waarbij je zelf kan bepalen hoe en wat! Awesome! Ik heb veel rond gekeken op Pinterest en Etsy en daarnaast veel van mijn eigen fotoalbums doorzocht voor leuke foto's. Daarnaast kreeg ik ook heel veel zin om wat dingetjes te knutselen.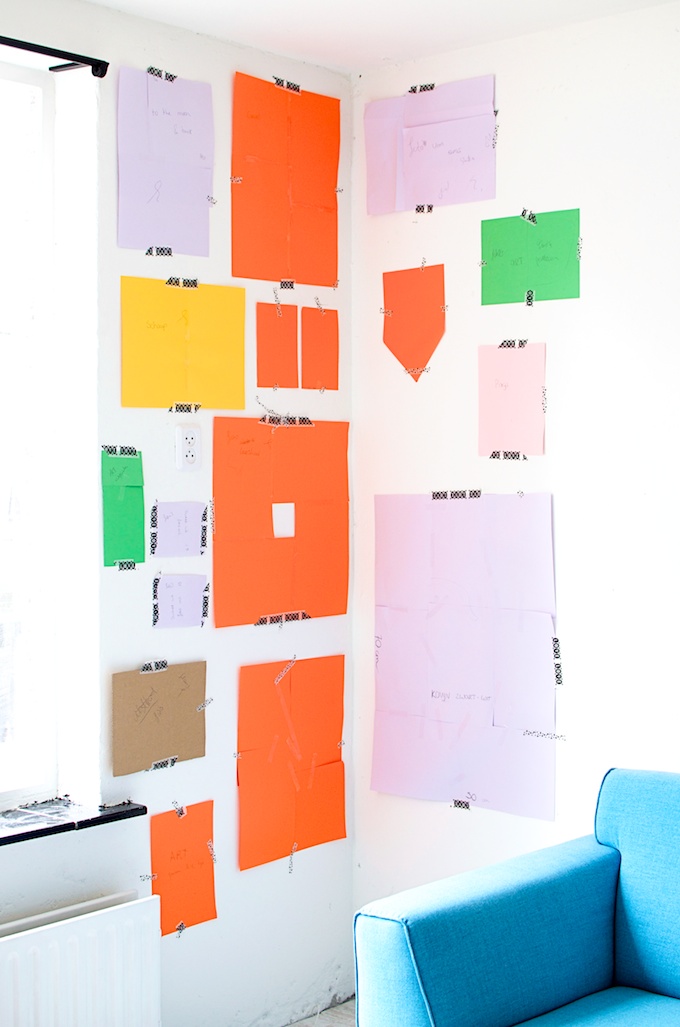 So.. let's do this! Er zijn verschillende technieken en stijlen voor het maken van een galerijmuur, maar ik leg uit hoe ik mjn galerijmuur heb gemaakt. Mijn galerijmuur is niet strak, maar een beetje casual, gezellig en rommelig met allerlei verschillende vormen van art. 1. Kies je art De eerste stap is gelijk de stap die het meeste werk is. Welke art heb je altijd al op willen hangen en/of welke foto's zijn je dierbaar. Denk er goed over na welke dingen cht een plekje op de muur moeten krijgen. Vul niet de gehele muur gelijk al in, laat wat gaten hier en daar, zodat je wat speling hebt. (Hoe en welke keuzes k heb gemaakt bij kiezen van art en foto's voor mijn muur, leg ik morgen in een apart artikel uitgebreider uit.) 2. Plan & maak papieren templates De plan- en denkstappen zijn meestal het saaist; we willen gewoon gelijk aan het werk! Maar vertrouw me, sla deze stap niet over. Het is een hele belangrijke en het bespaart je op de langere termijn veel werk. Maak van alle art die je tot nu toe hebt gekozen papieren templates; templates die precies matchen met de grootte van elk kunstwerk. Plak ze vervolgens n voor n op de muur (met tape die geen residu achterlaat). Ze hoeven helemaal niet netjes bij elkaar geplakt te worden; verspreid ze over de gehele muur en laat gerust gaten vallen op lastige plekken. Het hoeft ook niet in n keer goed, je kunt later nog veel verschuiven. Ik begon met vijf schilderijtjes (althans, de papieren templates daarvan) die ik zomaar ergens heb neergehangen op de plekken die mij op dat moment leuk leken. En dat betekende dat er nog heel wat lege plekken op de muur overbleven. Zoals bijvoorbeeld links naast mijn stopcontact (lastig hoekje!). 3.Vul de gaten op En nu is het tijd om de lege gaten op te vullen. Maak templates die de gaten van de muur kunnen opvullen. Wees een beetje speels qua vorm; aangezien je nog geen art hebt gekozen voor die lege plekken, kun je de art straks aanpassen aan de templates. Zo koos ik er voor om bij het stopcontact meerder kleine templates te maken om zo de rare lege plek op te vullen. Ga vervolgens weer op zoek naar art. Ik heb hier best lang de tijd voor genomen; een paar weken lang heb ik alle leuke art, quotes en foto's die ik tegenkwam opgeslagen. Daarna ben ik aan het meten en denken geslagen wat het beste in de templates zou kunnen passen. 4. Fotolijstjes Bepaal nu welke art een lijstje krijgt en koop de juiste maten. Probeer de lijstjes onderling een beetje af te wisselen; dikke lijst, dunne lijst of misschien wel helemaal geen lijst. Hang alle foto's en posters in lijstjes. Precies op de plek waar de papieren templates op de muur hangen, hamer je de spijker in de muur om het lijstje op te hangen. En klaar! Alle stukjes vallen nu eindelijk op z'n plek. 🙂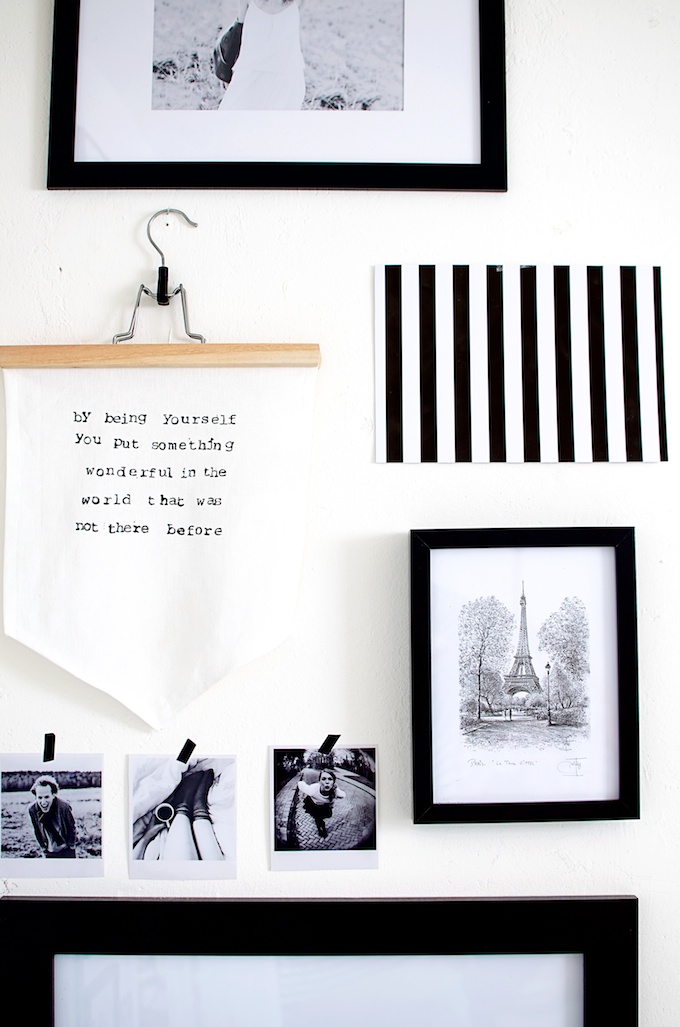 Ik ben meer dan blij met het resultaat! Vooral de afwisseling van de verschillende soorten art vind ik heel erg leuk! Als je liever een strakke galerijmuur wilt, dan kun je bovenstaande technieken iets minder letterlijk nemen. Denk dan al echt van tevoren alle foto's/art uit. Of gebruik een layout van internet waar allerlei combinaties zijn voorbedacht met verschillende lijstjes en vormen. Je hoeft dan enkel een idee uit te kiezen.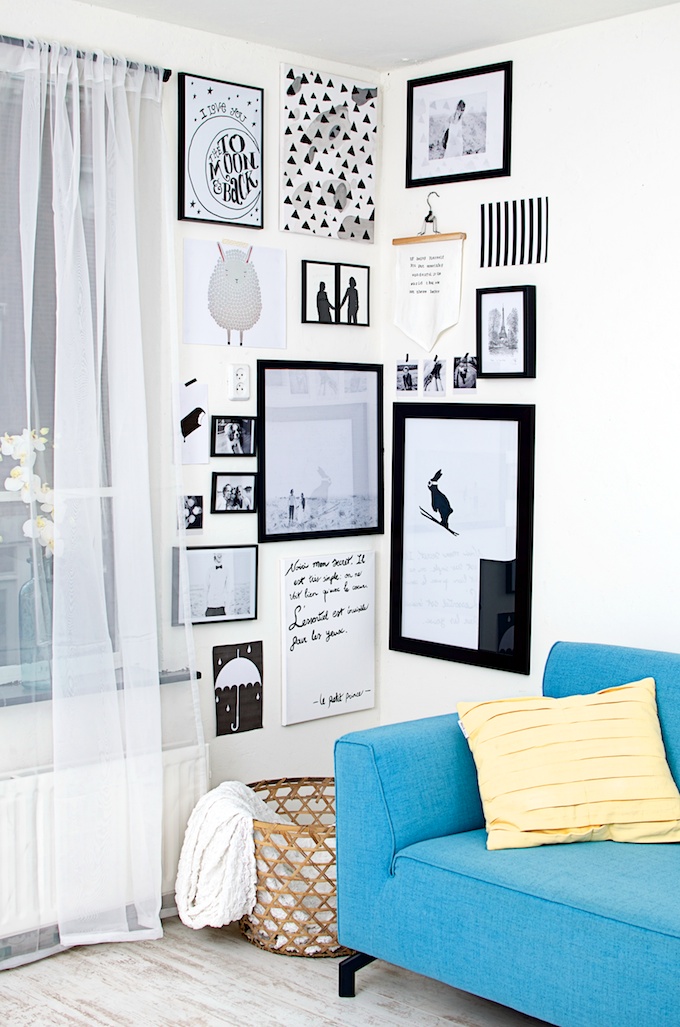 Vroeger moest ik cht niets van al die lijstjes en foto in huis hebben, ik vond het altijd zo snel kitch en 'troeperig' worden. Maar tegenwoordig zie ik er echt schoonheid van in; het geeft zoveel persoonlijkheid aan een huis! Al onze muren in de woonkamer zijn wit en kaal, en ondanks dat er nu maar n klein hoekje aangekleed is, voelt het gelijk alsof alle muren wat minder kaal zijn. Het brengt zoveel sfeer en gezelligheid mee! Shifra